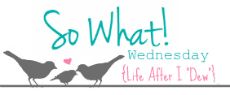 So what if having a baby has refuelled my addiction for the game Spite and Malice on my iPhone? That game has gotten me through many a night time feedings in my day.

So what if we went through the McDonald's drive thru for an iced coffee and when Evalyn asked me "Where's Eea timbit?" (donut hole from Tim Horton's for all you Americans) and I said "We didn't get one today" she responded by saying, "Okay. Just cossee for Mama da-day!" Hm, has she heard that before?

So what if my once super organized and efficient packing has turned a wee bit sloppy in these last days as evidenced by the box I packed yesterday and labeled, "Random Crap We Probably Won't Ever Need Again".

So what if we decided to buy a fixer upper, renovate,move and have a baby ALL! AT! THE! SAME! TIME! Seemed like a good idea at the time.

So what if I purchased an ErgoBaby Carrier with Gwennie's gift money even though I have 8 other baby carriers of different styles? They all serve a different purpose, right?

In similar news, so what if I'm obsessed with babywearing?

So what if I had about ten other things to include on this list but my baby is crying and needs me so I'm signing off!

Happy Wednesday, friends!