I'm linking up with Katie again to show you our Saturday morning scene.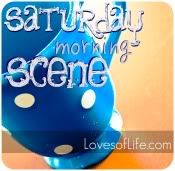 Eva's cousins are visiting her this weekend so we've started our weekend out right by heading to the pool.
Now, the babies are sleeping and Little H is out playing with Nika in the "quiet forest".
Happy Saturday!