Over the past few months, as I've developed close relationships with a number of my blog friends, many of whom are American, I have begun to discover some amazing, amazing, amazing things that somehow seem to be contained within the borders of the great white north. You will probably not be surprised to learn that all of these things are edible and unhealthy. All of these edibles are treats that I have grown up on, many of which I took for granted, until very recently as I have discovered that they may not be familiar to the whole wide world.
So, here I am, doing my part in the world, introducing my American friends to a variety of treats that you may very likely have never heard of. If you ever find yourself venturing into Canada, please be sure to seek out these
yummies
.
First up, the oh-so-wonderful
Poutine
. My jaw literally dropped when I discovered that most/all of my American friends have never tried, let alone, heard of
Poutine
. A
Poutine
is a Quebecois delicacy that has spread it's goodness across our great nation. It consists of a plate of french fries, piled high with cheese curds and smothered in brown gravy. It seriously brings sadness to my heart to know that many of you have never indulged in a
Poutine
.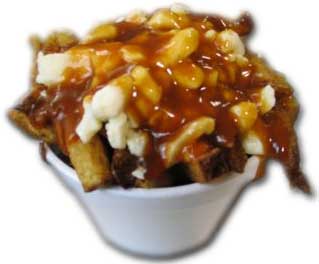 (
source
)
Next on our list, we have the
butter tart
. What is there to even be said about the butter tart, except that it may be our best kept secret? It is similar to what you Americans may know as "pecan pie", yet it appears in tart form and often without the distraction of pecans, allowing the indulger to focus their attention entirely on the sugary syrupy filling. Sometimes, butter tarts include nuts and/or raisins, but, in my opinion, are best left as is.
Following the butter tart, I introduce you to the
Dill Pickle Chip
. There is not much to say about this one, except that they are potato chips flavoured like dill pickles and are absolutely delicious. They are my favourite!
This completes the list I had generated. But my dear
frousin
Caley
, relayed a piece of disturbing information to me.
IS IT TRUE THAT AMERICANS DO NOT HAVE SMARTIES
?
If so, I must simply complete this post by asking ... what is
wrong
with your nation?